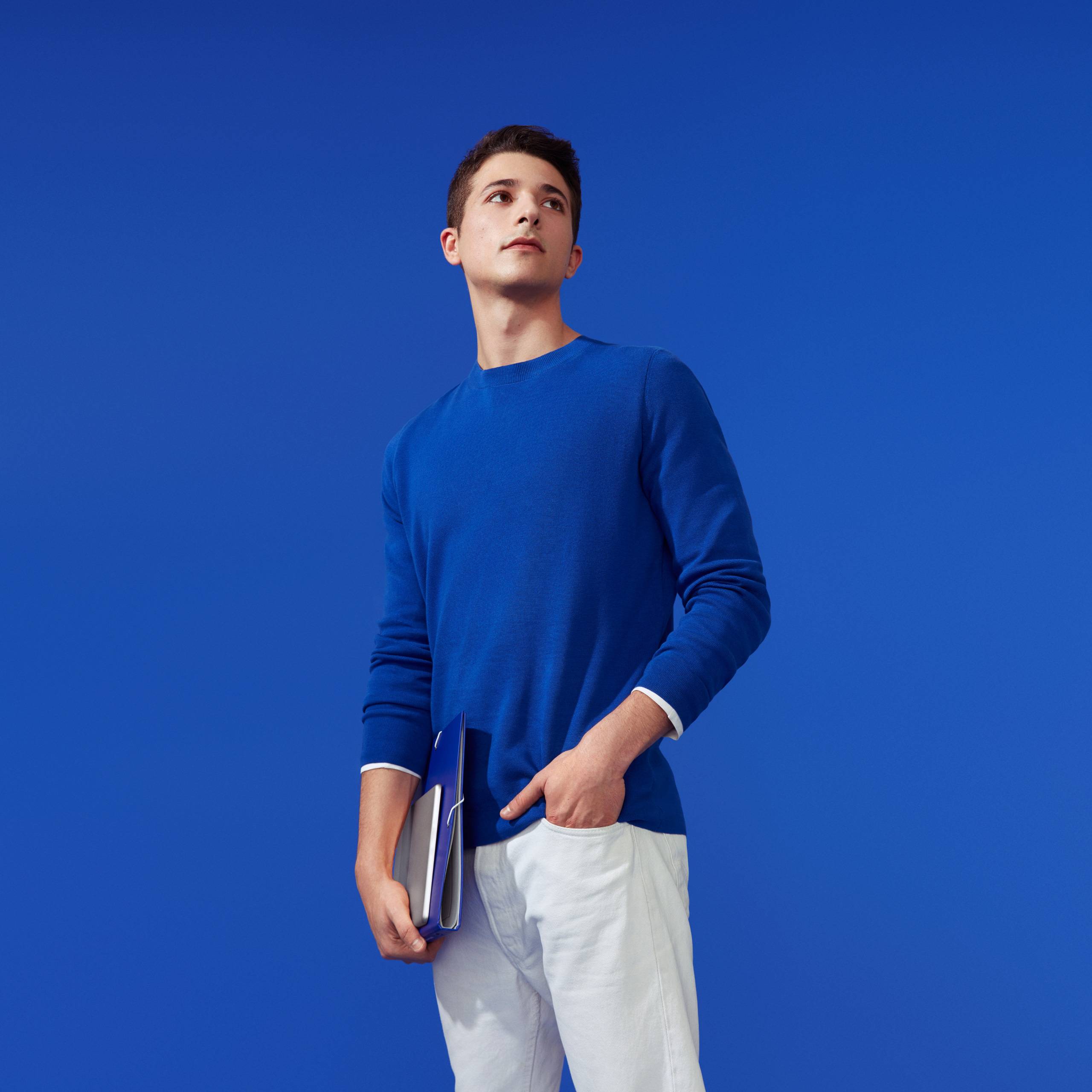 Bachelor's Degree in International Business and Marketing
The Bachelor's Degree in International Business and Marketing prepares for the international management and gives a, multidisciplinary, multicultural education
Area

International business and marketing

Title

Bachelor's Degree in International Business and Marketing

LENGTH

4 years

credits

240 ECTS

REQUIRED SUBJECTS

104 ECTS

CORE SUBJECTS

60 ECTS

ELECTIVE SUBJECTS

48 ECTS
COMPANY INTERNSHIP

20 ECTS

BACHELOR'S DEGREE FINAL PROJECT

8 ECTS

LANGUAGE

50% of subjects taught in English

TIMETABLE

Subjects assessed at the end of each term

PLACES

110 students

TUITION FEES

€123 / ECTS
Today's society needs qualified professionals ready to tackle the ever-changing world of international business and management. The Bachelor's Degree in International Business and Marketing (BDIBM) meets this demand by equipping students with the skills to adapt to any area of a company, organisation or institution operating in the international arena.
The BDIBM is an official four-year university degree that gives students a comprehensive grasp of business management and equips them with the knowledge, expertise, techniques, skills and conduct that are the keys to success in international business and marketing. This is a world that calls for professionals with multidisciplinary skills and expertise in the areas of management and business techniques, economics and quantitative methods, humanistic and institutional knowledge and languages. Indeed, languages feature in the degree programme in two ways: students have the option to study Arabic, French, German, Japanese, Mandarin Chinese or Russian for three years (the first two years are mandatory), and 50% of the degree subjects are taught in English.
Another distinguishing feature of this course is the mandatory three-month company internship that students have to do in their third year.
As part of our endeavour to foster cultural exchange, and as a vital part of students' education, ESCI-UPF welcomes overseas students and offers home students the opportunity to take part in exchange programmes with universities in other countries, either as part of the Erasmus programme or through bilateral agreements.
The degree subjects are taught in small groups on a termly basis and call for students' undivided attention. Our high-quality teaching places particular emphasis on the practical aspects of international business and marketing. Our teaching staff is made up of lecturers from ESCI-UPF and the Economics & Business and Humanities Departments at UPF, among others, together with prestigious professionals with acclaimed expertise in the world of international business.
This bachelor's degree will
Give you a comprehensive, multidisciplinary, multicultural education.
Give you an overall vision of an economic organisation looking to break into or expand its operations in the international arena.
Equip you with the skills to design and set out the commercial, financial, legal and human-resource strategies a company needs in order to build or consolidate its presence overseas.
Hone your communication and negotiating skills in different languages.
Teach you how to adapt to, work with and lead international, multicultural and multidisciplinary groups.
Show you how to read current political, economic and social affairs through a business lens.
Set out the keys to doing business in any country.
Give you the opportunity to gain firsthand work experience in the field of international business through your company internship.
Train students to adapt to any department in a company, organisation or institution working in the international arena, in both multicultural and multidisciplinary environments.
Engage students in business on a global scale.
Hone students' social and interpersonal skills, especially in international environments.
Give students a broad, crosscutting education with a sharp professional focus to show them how the different management areas in a company work.
Offer a contemporary degree course that matches the needs of today's organisations and adapts to the constant changes in the business environment.
Teach students not only the key theoretical foundations but also the skills to adapt and acquire new knowledge and expertise as part of an ongoing process.
Ensure students can express themselves confidently in public in Catalan and Spanish, both orally and in writing.
Ensure students are able to understand and make themselves understood in English, both orally and in writing, and to achieve proficiency in a second foreign language (Arabic, French, German, Japanese, Mandarin Chinese or Russian).
New technologies
Students have access to specially equipped spaces where they can connect their laptop. In addition to their email account, they will also have access to the ESCI-UPF intranet, as well as UPF libraries and a wide range of Spanish and international databases.
Theory and practice
Prestigious lecturers from the academic and business worlds lay out the theoretical foundations and share experience-based knowledge.
An international perspective
In today's world, companies need to have a global awareness. All the subjects for this degree course are taught from an international perspective.
Teamwork
Students learn how to work collaboratively with other students as an educational model for their future professional work.
Active learning
Our teaching techniques get students playing an active role. Case studies, simulations and business games give students the chance to put their newly acquired knowledge into practice.
Business integration
Internships in Spanish and overseas companies and institutions give students firsthand experience of the professional market and let them apply their knowledge and skills to real-life situations.
Humanistic and technical education
In addition to acquiring technical skills, students also receive a humanistic education. Experts in international business need to be masters in the art of ethics, emotional skills and communication and should be able to adapt to other cultures through their keen awareness of their social and political environment and their firm grasp of international law.
Multilingual
Today's business dynamics call for multilingual professionals. On this degree, 50% of classes are taught in English and students have the option to study Arabic, French, German, Japanese, Mandarin Chinese or Russian for three years. The teaching of second foreign languages at ESCI-UPF is endorsed by Idiomes UPF, which is also responsible for providing 70% of the university's language offerings.

Where do graduates find work?
Professionals in international business and marketing can find work in many areas.
Companies: industrial, agricultural and service companies with an international outlook
Public sector: supranational, national, regional and local public organisations whose mission is to promote economic growth and forge commercial ties
International cooperation: NGOs and other public and private nonprofit organisations with an international outlook
Professional profile
Export department manager
Analysist or manager in an international organisation or NGO
International department manager in a consultancy or financial institution
International controller
Head of international purchasing
Director of the international department in a company
Director of overseas subsidiaries
International entrepreneur
Head of international logistics
Head of the commercial department and sales
Product manager in business
Marketing, advertising or market-research consultant
Competences
Once you have competed this degree, you will have acquired the following competences:
Ability to research, analyse, assess and synthesis information from different areas of an organisation
Ability to adapt to, work with and lead international, multicultural and multidisciplinary groups
Ability to understand an economic organisation from a global perspective
Ability to take decisions when faced with complex, changing situations
Ability to communicative in English, both orally and in writing
Ability to express yourself proficiently in two foreign languages
Ability for self-learning and entrepreneurship
Student profile
Student profile for the Bachelor's Degree in International Business and Marketing.
Skills:
Teamwork
Abstract reasoning
Attention and concentration
Good organisational skills
Personality:
Socially adept
Open to different attitudes and customs
Quick to adapt to different situations and people
Creative and full of initiative
Attitudes:
Open to multiculturalism
Keen to communicate
Optimistic and enterprising
Eager to learn languages
Motivated by teamwork
Interested in travel and learning about other cultures
Ready to do business