Master's in International Trade
Master's in International Trade : Introduction
Introduction
Contact us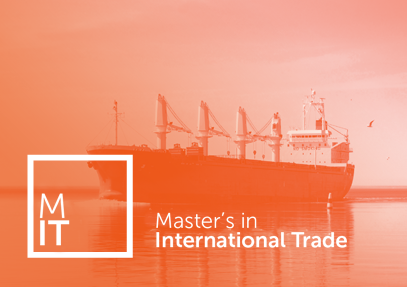 Area

International business

Title

Master's in International Trade

LENGTH

October to June

MODALITY

On campus
Créditos

60 ECTS

TIMETABLE

Monday to Thursday, 7–10 pm

TUITION FEES

€5,500
PLACES

25 students

Language

Spanish
Outline
The Master's in International Trade equips students with the operational management skills and expertise to become international business professionals ready to play an active role in companies trading worldwide.
This master's degree will:
Give you an overall vision of how a company's export department works.
Teach you the ins and outs of customs and international taxes, payments, logistics, purchasing and transport.
Set out the main characteristics of international contracting and show you how to manage issues with suppliers and customers with different cultural backgrounds.
Teach you Business English.
Enable you to design an internationalisation project for a company or product or write a thesis on the current state of international affairs and their influence on international business.
Why ESCI-UPF?
Because ESCI-UPF offers a comprehensive vision of the internationalisation process.
Because ESCI-UPF provides the necessary tools and strategies to build and consolidate a company's presence overseas.
Because ESCI-UPF has over 20 years' experience teaching international business and bears the UPF hallmark of quality.
Because ESCI-UPF lecturers are drawn from a wide range of in-service professionals eager to share their day-to-day experience of international business with students in class.
Student profile
Graduates and professionals looking to acquire a general, broad and practical education in international trade.
People linked to a company's international trade department in search of a global vision of the whole internationalisation process.
Professional internships
The Master's in International Trade is a professional master's degree, which means no internships are included as part of the course. Nevertheless, there is a free professional advisory service to help students polish their professional CV. Students are free to arrange an extracurricular internship themselves, and ESCI-UPF will draw up an agreement between the school and company free of charge.
In addition, all students who join the ESCI-UPF Alumni Association have free access to its employment office.
Looking for more information?
For further information call 900 122 630 (or +34 93 295 47 10 if calling from overseas)