Master's in International Retail
Master's in International Retail : Introduction
Introduction
Contact us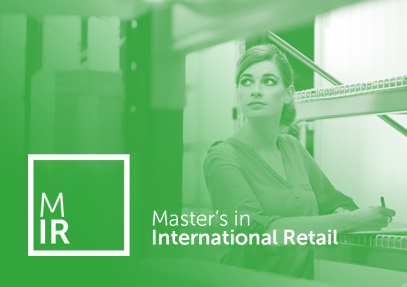 Area

International retail

Title

Master's in International Retail

LENGTH

January to December

MODALITY

On campus
Créditos

60 ECTS

TIMETABLE

Thursday, 7.00–9.30 pm (3 Thursdays a month)
Friday, 4–9 pm
Saturday, 9 am–2 pm

TUITION FEES

€8,000
PLACES

25 students

Idioma

Spanish
Outline
The Master's in International Retail gives students a comprehensive, crosscutting vision of point-of-sale management and commercial distribution.
You will get a firm grasp of all aspects of retail and will develop your professional career from an operational and strategic perspective: purchasing management, logistics organisation and brand positioning, as well as designing expansion plans and branching out into other channels (self-owned shops, franchises, corner franchises, outlets, travel retail, online, etc.).
All taught by industry executives who will give you a keen insight into dealing with brands on a daily basis.
Master's in International Retail File (spanish version)
This master's degree will
Give you a firm grasp of the retail business, its trends and the keys to management.
Enable you to manage a network of commercial establishments and oversee their national and international expansion process.
Teach you negotiation and human talent management techniques.
Show you how to organise logistics and information flows in a retail chain.
Let you analyse store performance.
Give you a better idea of consumers so that you can adapt products and services to match their needs.
Why ESCI-UPF?
Because at ESCI-UPF we see the business world as a global phenomenon where international retail plays an increasingly central role.
Because ESCI-UPF aims to equip retail professionals with the knowledge, expertise, tools and skills to tackle the key day-to-day challenges and set strategic goals..
Because ESCI-UPF is a retail pioneer: it launched its Master's in International Retail in 2007.
Because ESCI-UPF has been teaching international business since 1994.
Student profile
The Master's in International Retail is geared towards professionals looking to develop their expertise in the retail industry and to build a professional career in this field.
In particular, it is aimed at:
In-service professionals in any area of management in a retail company keen to build their career in this industry, including store managers, heads of expansion, area managers, purchasing managers, operations managers and logistics managers, among others.
Professionals in industrial or service companies working in retail management departments.
People with entrepreneurial initiatives currently running (or aiming to run) a franchise or their own business dealing directly with the public.
Experienced graduates with a degree in any subject looking to build a professional career in the retail industry.
Professional internships
The Master's in International Retail is a professional master's degree, which means no internships are included as part of the course. Nevertheless, there is a free professional advisory service to help students polish their professional CV. Students are free to arrange an extracurricular internship themselves, and ESCI-UPF will draw up an agreement between the school and company free of charge.
In addition, all students who join the ESCI-UPF Alumni Association have free access to its employment office.
Looking for more information?
In accordance with the provisions of Organic Act 15/1999, of 13 December 1999, on Personal Data Protection, we hereby inform you that the personal data you disclose will be stored on a file owned by ESCI-UPF and used to handle your query and to send you information on new ESCI-UPF programmes, including by electronic means.
You may exercise your right to access, amend, cancel and oppose the use of your personal data at any time by writing to ESCI-UPF, Passeig de Pujades, 1, Barcelona 08803, Spain, enclosing a copy of your passport, ID card or any other valid form of identification.
For further information call 900 122 630 (or +34 93 295 47 10 if calling from overseas)